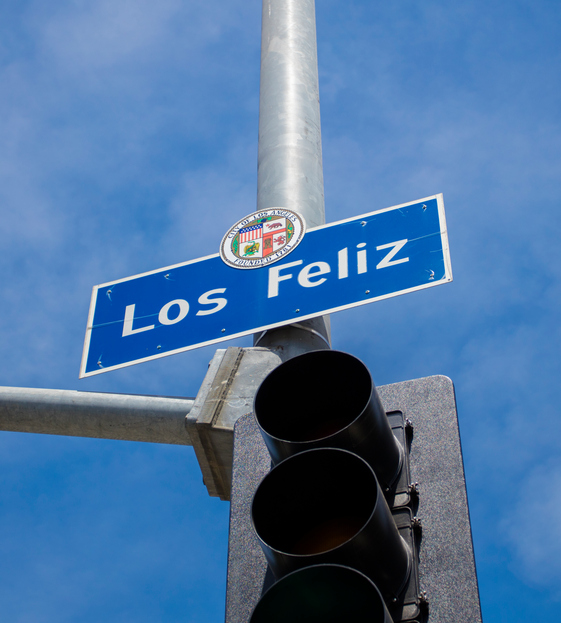 Los Feliz' laid-back and unassuming vibe conceals a magnificent history, one that is inextricably tied with the motion pictures industry – home to screen legends and workshops that went on to become large studios, this Eastside neighborhood has just as much cultural cachet as its neighboring  Los Angeles County cities.
Located on the scenic slopes of Mt. Hollywood, Los Feliz is as approachable as it gets in LA. Home to more than 33,000 residents and one of the largest urban parks in LA County, it offers respite from the frenetic energy of Southern California.
A brief history
Named for Corporal José Vicente Feliz, a veteran of the Anza expedition, which brought some of the first European settlers to California, Rancho Los Feliz was founded in the 1780s as a Spanish land concession under the colonial land-grant system spanning 6,647 acres of semi-arid landscape.
The land would change hands over the next few centuries, once to horse racing magnate and real estate investor Lucky Baldwin, and then to mining tycoon Colonel Griffith J. Griffith.
After Griffith failed to market the land to buyers, Rancho Los Feliz was ceded to the City of Los Angeles, under which it became prosperous, attracting big shots and employees from the oil and motion picture industries.
Today, it is one of the most sought after real estate markets in Southern California – homes and rentals in Los Feliz, CA are sought for their seclusion and beautiful scenery.
Living in Los Feliz, CA
Timeless architecture. Los Feliz boasts of amazing architecture courtesy of Frank Lloyd Wright, Wallace Neff, Richard Neutra, R.M. Schindler, and Gregory Ain – great architects who have left an indelible mark on the picturesque landscape of Los Feliz.
Retail hotspots. Los Feliz Village is lined with retro storefronts, including boutiques, record stores, book stores, dive bars, and restaurants. It hosts the annual Los Feliz Village Street Fair, which brings live music and amazing food to revelers. The area is also sought for its centrally located apartments and condos.
Lush greenery. Griffith Park is considered one of LA County's biggest outdoor attractions, offering more than 4,000 rugged acres of trails, open spaces, picnic areas, and museums. Highlights include the famed Griffith Observatory, Autry Museum, Greek Theatre, LA Zoo, and Bronson and Beachwood canyons, just to name a few.
Foodie haven. Los Feliz is known for cozy and casual restaurants that serve Italian, Mexican, French, and Turkish food. You'll also find places that serve vegan, vegetarian, and gluten-free options.
Los Feliz, CA real estate
Los Feliz has an urban feel. The housing market brings you an excellent selection of single-family homes and condos with Colonial, Ranch, Traditional, Art Deco, Mediterranean, and Mid-Century architecture. Much of the housing stock was constructed between the 1920s and 1930s. Many of the homes in the area have high ceilings, expansive driveways, and outdoor swimming pools.
Ready to explore the real estate market? Let Third Power Properties be your guide. You can reach us, Kelly Gleason and Anastasia Israel, at 310.684.3583 or info(at)thirdpowerproperties(dotted)com for more information.
Sorry we are experiencing system issues. Please try again.